Vermont Licensing Manuals
Development of Child Care Licensing Manuals, Vermont State Department for Children and Families, Child Development Division
Overview
ECA created Guidance Manuals to accompany Vermont's new Child Care Licensing Regulations for Afterschool Child Care Programs, Registered and Licensed Family Child Care Homes and Center Based Programs. The goal of the Guidance Manuals was to provide clarity on what compliance to the regulations looks like. The Guidance Manuals represent an important step towards ensuring consistency of interpretation of the regulations among providers and licensed field specialists in the different educational settings.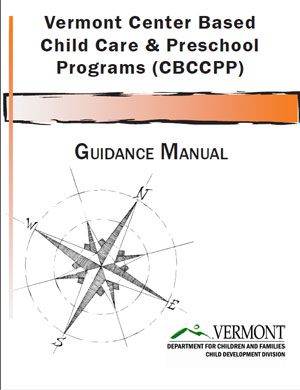 Key Activities
Convened a group of stakeholders who offered important formative advice on the Guidance Manuals. Engaged stakeholders in visioning to define the regulations and procedures that need additional interpretation and guidance. Stakeholders commented on the breadth, clarity and accessibility of the guidance.
Implemented the Q-sort methodology, a qualitative research technique, consisting of an iterative process that resulted in manageable set of key guidance areas.
Utilized a proprietary Review Team Model to confirm essential regulations and standards that needed more guidance. The review team included providers and field licensing specialists to confirm which guidance made sense and would be valuable in practice.
Outcomes
Three new Guidance Manuals that presented essential content of the State's new licensing regulations in a compelling and easy to understand format.
Clarity of understanding of regulations for providers and licensing specialists in center-based childcare, family child care, and afterschool programs.
Roll out and implementation the Guidance Manuals for users across the State.